Think about all the places you see QR codes: restaurant menus, airline boarding passes, bills, product packaging. These small, square images, similar to barcodes, were invented in 1994 to improve an automotive brand's vehicle manufacturing process. Today, they're everywhere — and it's easy to see why. QR codes connect people with the information they're looking for quickly. They're easy to use. They take up little visual space but can be packed with important data.
QR codes have streamlined our lives. Did you know they can make managing a multifamily property easier too?
Let's take a look at three different ways you can use QR codes at your apartment community.


Provide Virtual Tours
Add a QR code to your door with video tours and other apartment information. If you're not on board with self-guided tours for security reasons, this alternative allows potential residents to learn more about your community on their own time. You won't miss out on a new resident when the leasing office is closed.


Quickly Check out or Return Keys
If you manage your keys with an electronic key control system, you can return or check out keys with a quick QR code scan. For example, the KeyTrak Edge mobile app allows you to complete all the steps of checking out or returning a key from your phone. The app then generates a QR code, which you scan with a QR code scanner at the system. The drawer will unlock, and you can remove or return keys.
Securely Identify Key Tags
When maintenance professionals need to check out multiple keys at once, it can be difficult to keep those keys in order during service calls. Placing a piece of tape on it with the apartment number defeats the purpose of keeping keys secure. But going back and forth to get one key at a time isn't ideal either, especially at large properties.
Instead, you can print a label with a unique QR code and attach those to each key tag. Then, you can scan that QR code with your phone to identify a specific key.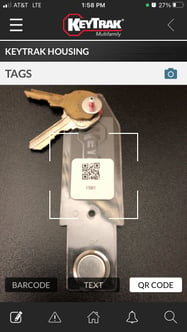 Using QR codes to help you manage your property gives you the convenience you're used to in every other aspect of your life. And even better? You don't have to sacrifice security.