These days you'll find more people angling on the water than embarking on a cross-country RV adventure or sitting in a deer blind. According to the latest data from the U.S. Department of Commerce's Bureau of Economic Analysis, recreational boating and fishing were the number-one contributor to the outdoor recreation economy, outranking RVing, hunting, and other outdoor hobbies.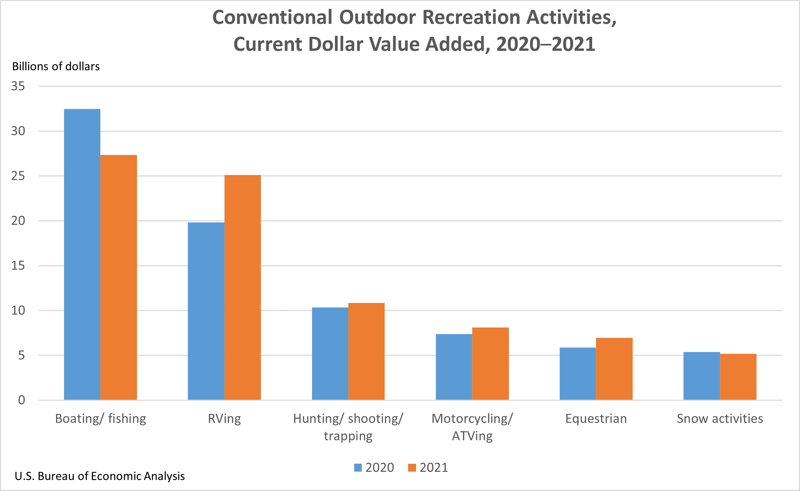 As a result, the recreational boating industry reeled in a record-breaking $56.7 billion in 2021. Although new powerboat retail unit sales declined 15-18% in 2022, sales remained 25% above previous averages. In 2023, the market points to healthy demand on par with 2022.
As a marine dealer, it's crucial to capitalize on this favorable market. Effective key management provides a foundation for this growth by mitigating risks that stand in the way of your success and enhancing overall operational efficiency. Here are three critical ways improving your key control practices can help your dealership maintain steady sales:


Tackle Boat Theft
According to the National Insurance Crime Bureau, boat theft and fraud cost owners and insurance companies millions of dollars each year. Neglecting to secure inventory keys increases these theft risks that can sink your profits.


Boat theft and fraud cost owners and insurance companies millions of dollars each year.
If your dealership offers storage, maintenance, or repair services, the lack of secure key management could lead to unauthorized access to customer vessels, key loss, or theft. These incidents not only jeopardize your customer relationships but can also result in costly liabilities and legal disputes.
When you implement a key control system, you can automatically authenticate users, preventing unauthorized access. This proactive approach helps protect both dealership inventory and customers' trust.


Manage Inventory More Efficiently
Although the boating industry as a whole is holding steady, demand varies by region, buyer demographics, and other factors. These differences make it challenging to maintain optimal inventory levels. Heading into 2023, just under half of dealers (47%) had too many new boats in stock, and 21% didn't have enough in inventory. Stock for used boats was more balanced: 33% of dealers reported excess inventory, and 36% reported low inventory.
Key control can give you insight into your dealership activity and help you avoid inventory management challenges such as:


Missing Keys
If your customers are forced to wait around while you search for a missing key, you risk missing out on sales. Using a key control system that tracks when keys are removed and notifies you when they're not returned on time allows you to take immediate action to retrieve or replace the missing keys. It also helps your salespeople avoid double bookings. As a result, your dealership can operate smoothly and maximize sales potential.


If your customers are forced to wait around while you search for a missing key, you risk missing out on sales.


Maintenance Backlogs
By reserving keys for specific boats, you'll be able to prioritize and schedule maintenance activities efficiently, preventing any delays or backlogs. As a result, boats can be prepared for sale or display in a timely manner, optimizing your inventory turnover rate. By keeping track of which boats are reserved, you can give each vessel the right amount of attention, avoiding situations where certain boats are neglected.


Siloed Inventory Data
When you have data spread out across multiple applications, it can be difficult to get an accurate picture of your inventory. Integrating your key control solution with your marina management software or dealership management system gives you a comprehensive look at inventory activity. For example, without switching back and forth between applications, you can identify:


Excess or insufficient inventory based on how often customers ask about certain boats.
How often keys to those boats are checked out for test drives.
How many of those test drives result in sales.
When you use key control as part of your inventory management process, you'll be able to streamline your operations and make data-driven decisions.


Retain New Boaters
New-boater retention is vital for your dealership's profitability specifically as well as the industry's long-term success. To keep new boaters engaged, 59% of marine dealers surveyed say they offer sales and service incentives. But keeping customers coming back isn't just about money. Other dealers said they focus on a combination of things, such as:


Creating group activities at the dealership.
Adopting standard communication procedures.
Texting customers pickup reminders and invoices.
Providing a consistent service and delivery experience.
Adding delivery service for an additional fee.
Adopting and communicating a storage-fee policy.
No matter what customer retention strategies work for your dealership, providing an exceptional customer experience is critical. Efficient key management is an important part of the customer experience throughout the entire ownership cycle.


Efficient key management is an important part of the customer experience throughout the entire ownership cycle.
When customers arrive for the initial test drive, quick and hassle-free access to keys not only saves time but also demonstrates your dealership's commitment to providing a smooth experience. After the sale, if you want customers to service or store their boats with your dealership, they'll want assurance that their valuable assets are secure. A reliable key control system helps safeguard their vessels by preventing unauthorized access and ensuring keys are safely stored and accounted for.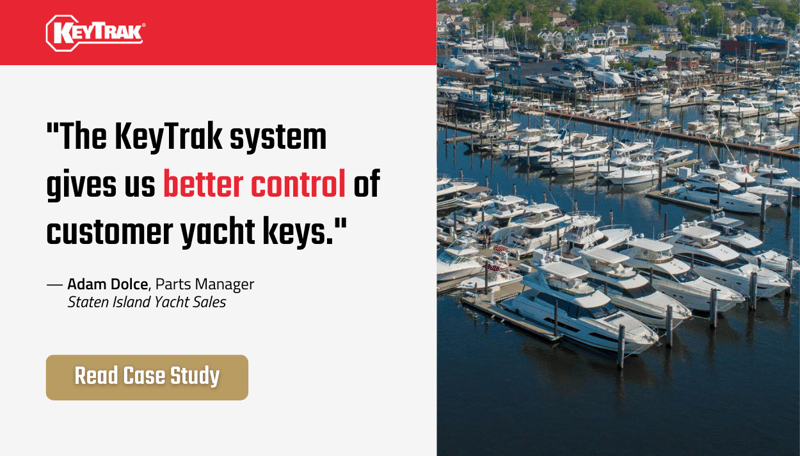 By providing a hassle-free sales process and prioritizing customer security, you create a positive impression on new boaters. In turn, that increases the likelihood of their return for future purchases and services.
From combating boat theft to optimizing inventory management and enhancing customer service, effective key control prepares your dealership to ride the wave of industry demand. As long as people are choosing to spend their time in the water over the forest or open road, make sure you're ready to claim your fair share of the outdoor recreation economy.