Is your condo association or board struggling to invest in security due to low reserve funds? You're not alone. Robert Nordlund, the founder and CEO of an association reserves study provider, said in a CNN interview that about 3 out of 10 condo associations his company reviews have less than 30% of the recommended reserves, putting them at high risk. This was a problem that contributed to the collapse of the Surfside, Florida, condo building, whose association lacked the funds for necessary structural repairs.
If you have expensive maintenance projects or other expenses taxing your limited reserves, what's the best way to optimize your security budget?


Encourage Owners to Do Their Part
Reserve problems aren't always strictly financial — they're interpersonal too. In the Surfside condo association's case, stakeholders argued with each other and couldn't agree on how to spend the money. When it comes to security, this dynamic is dangerous. According to a Washington Post column, "in buildings where homeowners are constantly fighting about what to do and who is paying for what, you might find lower reserves and money spent on aesthetics while longer-term problems are ignored, typically becoming more complicated and expensive."
One of your best defenses against crime is residents' collaboration. Why? As one resident of a large condo community explains in a Reddit post, security measures can't completely prevent all crime:


I live in a large condo community with 40 security cameras and 24-hour security. Our night guy is very good at watching the cameras live and some cameras will key text alerts if they spot movement at night. However, you cannot totally secure a community. Just last night our night guy spotted someone forcing entry and chased them down. You can't have a champagne lifestyle on a beer budget and security is expensive.
The person's advice?


I suggest the best thing to do is to try to educate residents to keep their eyes open and not to let people follow them in. It would be good if there was an emergency number where they can report suspicious activity. You have to try to get every homeowner invested in security and not think it's up to everyone else.
Good security isn't groundbreaking — many best practices are commonsense. Sometimes, though, it's easy to become complacent. Regularly remind residents of general security tips by posting signs in common areas, sending them in newsletters, or sharing in association meetings. When residents have security best practices top of mind and work together to follow them, they'll create a solid foundation for a secure community.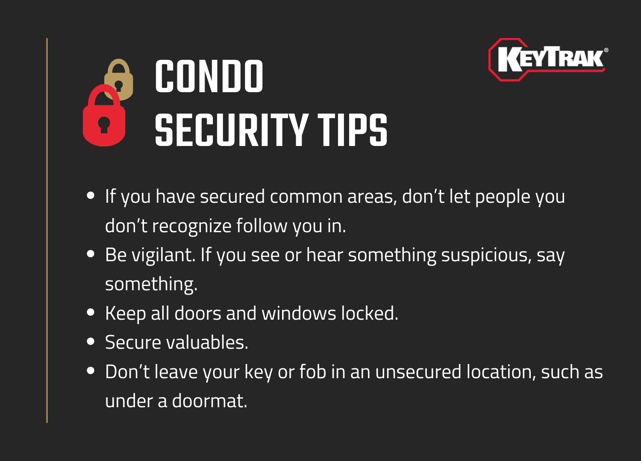 Choose Security Solutions Strategically
When deciding what security solutions to invest in, consider the expense, effort, and liability involved with each. Also think about how they affect residents. Let's look at a few examples.


Security Guards
Having a security presence on-site can not only reduce crime but put residents at ease. Unfortunately, the cost is prohibitive. You can expect to pay a basic unarmed guard $15-$20 per hour. For 24/7 service, that's $2,520-$3,360 per week. The cost goes up with other factors, such as experience, additional guards, and whether or not they're armed. This is also a high-effort solution since it requires one or more guards to be physically present and alert.

Security Cameras
Surveillance cameras can deter some crimes, such as vehicle crimes. However, research shows that they don't reduce violent crime. After all, preventing crime isn't their primary purpose — they're designed for post-incident monitoring. To reap cameras' full benefits, you need someone to regularly review the footage to take action on any suspicious incidents. If you have more than one camera, that's hours upon hours of footage to review. On top of that, cameras can pose liability issues if they malfunction or if residents feel their privacy is being violated.


Electronic Key Control
Electronic key control systems allow you to secure keys or fobs, preventing people from using them for unauthorized reasons and creating an automatic record of who's using those keys. If residents are reluctant to keep spare copies on file, electronic key control can put their minds at ease. It also reduces the risks associated with master keys or fobs.


If residents are reluctant to keep spare copies on file, electronic key control can put their minds at ease.


What should you prioritize?
To optimize your security budget, start by combining basic security measures with electronic key control. Unlike security guards, it doesn't incur an hourly cost or require someone to be on-site 24/7. And unlike security cameras, it doesn't introduce liability – it reduces it. Finally, security cameras and security guards protect outside the building, but key control helps protect residents inside their homes.
There are also practical benefits to key control, which helps get homeowners' buy-in. For example, if residents want to have dog walkers or house sitters visit their homes while they're at work or on vacation, they can safely give someone access to a spare key and automatically receive an email when they check it out.
That's not to say you shouldn't invest in security guards, cameras, or other solutions. But when you have limited funds, electronic key control is the best place to start.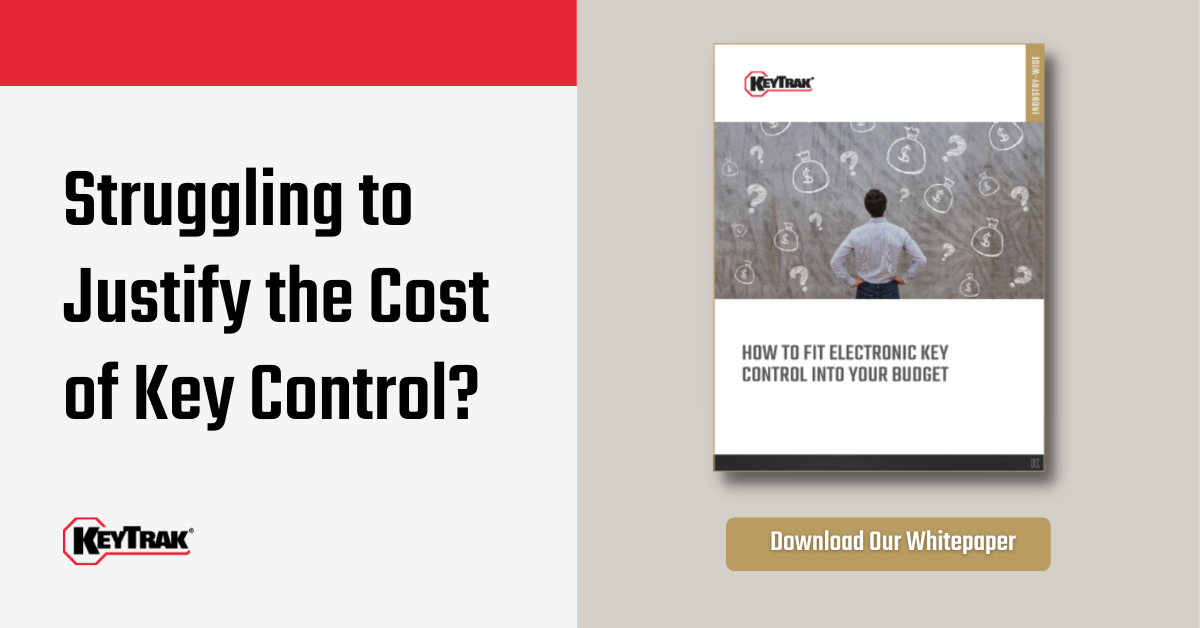 For every solution you invest in, work with a partner who will listen to your goals and priorities and advise you on the best solution for your budget and needs. That will ensure you're not spending valuable reserve funds on unnecessary products or services.
You don't have to sacrifice security to address ongoing maintenance or urgent repairs. Don't leave your condo community at risk.