Does your organization run exactly the same way today as it did 10 years ago? Five years ago? Two years ago? Probably not. Being able to scale your technology to meet your operational requirements is critical. Electronic key and asset management systems are no exception.
At least once a week, we get a request saying something to the effect of, "We manage 500 keys today, but we want to be able to add more later." We also hear, "We use your system at Location A and want to implement it at Location B as well."
How do you make sure your electronic key control scales with your organization? Here are a couple guidelines.


Plan for the Number of Keys or Assets per System
When considering a new key and asset management solution, collaborate with your technology partner. Together, design a solution that'll meet your organization's requirements both now and in the future.
Discuss questions such as:


How many keys do you manage?
Are there any factors that would increase the number of keys you manage (e.g., adding fleet cars, adding new locks)?
What non-key assets do you want to manage with your key control system (e.g., mobile devices, supplies, cards)?
What types of assets might you need to add later?
As you grow, consider how you'll account for additional keys and assets. Will you be able to add drawers, panels, or even entire systems that are right-sized for your organization? Don't invest in a solution that works now but doesn't easily scale.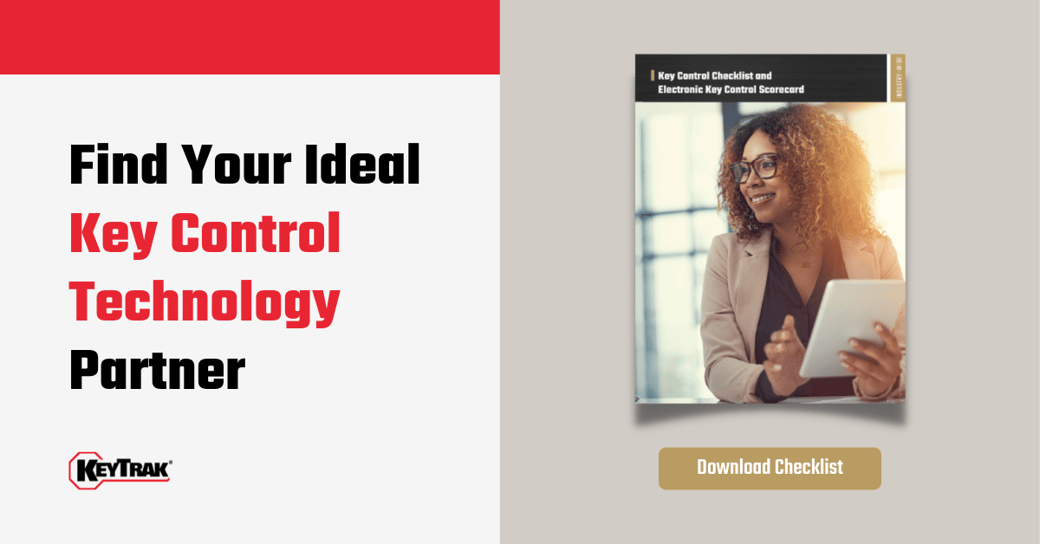 Consider Future Expansion to Additional Locations
Adding keys or assets to a single system isn't the only type of growth you have to think about. Maybe you only need a key control system in one department or location currently, but will other areas of your business require key and asset management systems down the road? What types of keys or assets will those additional locations manage? Will the solution you're considering work for those applications?
Whether your organization is an automotive dealership group with multiple stores, a sprawling university campus, or a property management company with multiple communities, working with a single technology partner for all locations has several benefits:


Easier purchasing
Simplified vendor management and billing
Standardized training
Streamlined operations (especially if employees use keys from multiple locations)
Consistent reporting formats
Preparing for growth will save you time and money. Rather than researching and evaluating solutions and vendors every time your business changes, you can simply expand as needed.


Real-Life Examples


Hendrick Automotive Group

Hendrick met with KeyTrak to discuss an enterprise partnership. The two parties hashed out a standardized process for ordering new key control systems, receiving support, deploying new features, and setting up customized training.

Hendrick has now rolled out several KeyTrak systems across several of its stores, and that number continues to grow as the business expands.



| | |
| --- | --- |
| Retirement Systems of Alabama | Retirement Systems of Alabama (RSA) chose to install a KeyTrak Guardian Versatile SmartPanel (VSP) system to store keys in a central location. RSA has had such a good experience with the KeyTrak system and employees, it purchased a second Guardian system to secure the keys for a second office. |
Your organization isn't static. Your key and asset management requirements two, five, or 10 years down the road will be different than they are today. Will you be ready?