Is your dealership lot feeling a little empty these days? If you follow Ford's lead, it'll stay that way. The OEM's CEO, Jim Farley, plans to abolish inventory and have customers purchase vehicles 100% online. Physical dealerships will then transition into high-quality service centers.
What if your service department were the only physical point of contact a customer had with your dealership? Would your customer experience be good enough to keep customers coming back?
Granted, moving all vehicles sales online doesn't make sense for every dealership since 75% of US car buyers say they prefer an in-person purchase process. But these questions are worth considering — especially now that people are driving vehicles an average of 12 years old.
Here are three ways to keep customers returning to your service drive.


Make It Convenient for Customers to Service Their Vehicles
Convenience is one of the top five factors that influence today's consumers' purchase choices. If it's not easy for customers to service their vehicles at your dealership, it's going to take a lot of convincing to get them in the doors.


If it's not easy for customers to service their vehicles at your dealership, it's going to take a lot of convincing to get them in the doors.
One way to win customers over is to intentionally create a customer journey that entices customers to service their vehicles with you — even if they bought their car online. For example, during the F&I process, you could offer all your customers a GPS tracking product that allows them to recover stolen vehicles, get speed alerts for teen drivers, and more. In addition to creating profit at the time of sale and adding value to the customer's purchase, it allows you to automatically send maintenance alerts based on mileage milestones. These are helpful reminders for customers, and it makes it easy for them to make a service appointment.
Once you get them in the doors, you could provide shuttle rides if they're dropping off their vehicle. If they're staying, offering work stations with Wi-Fi, refreshments, and/or a children's play area makes their visit more comfortable.


Personalize the Customer Experience
Personalization goes hand in hand with convenience. Consider these two offers:
Offer 1


"It might be time to service your vehicle."

Offer 2

"Your 2020 Ford F-150 is due for 20,000-mile maintenance. Make your appointment today!"
The first is generic and applies to every single one of your customers. When someone reads it, they have to ask themselves, "How do I know if it's time to service my vehicle? What does it need?" It's not clear if it applies to them, and it requires them to take extra steps (e.g., researching service milestones for their vehicle) before making an appointment.
The second offer, however, will grab your customer's attention instantly. It's designed to guide them through a specific thought process:


What Your Customer Reads

"Your 2020 Ford F-150 ..."

"... is due for 20,000-mile maintenance."

"Make your appointment today!"

What They Think

"That's my vehicle!"

"Oh, it's due for service."

"I'd better get on that."
If your dealership offers GPS tracking devices, one benefit is you can pinpoint a customer's exact mileage. If that's not an option, you can use time-based mileage reminders. However, since people drove less during the pandemic, mileage estimates aren't always accurate.
This is just one example of a personalization. There are plenty of other ways to customize your service department experience.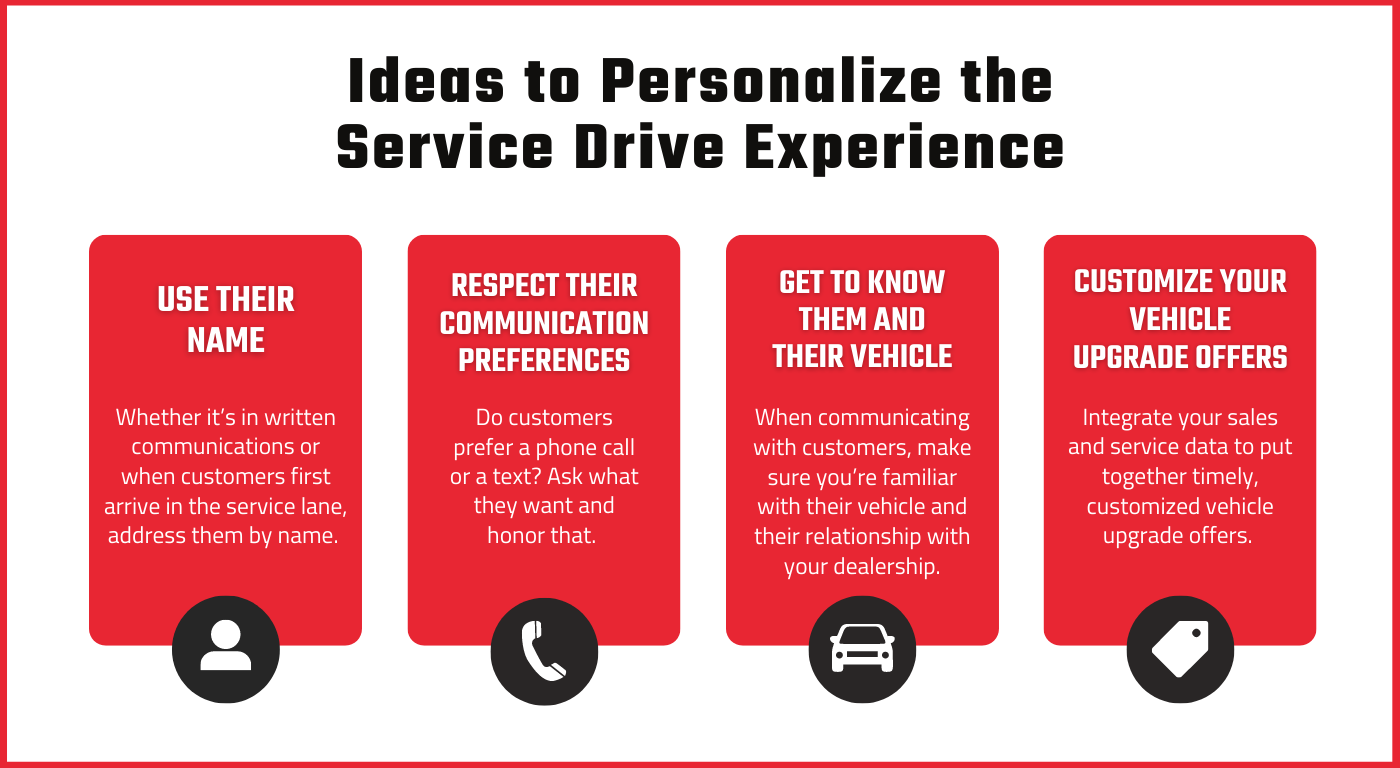 Build Trust With Your Customers
Customers want to do business with brands they trust. In fact, nearly 90% are willing to pay more to work with a brand they trust.
Winning customers' trust in the service department requires being honest and transparent, following through on your promises, and treating them with kindness and respect. But there is one thing service departments do behind that scenes that risks damaging trust with customers forever: not properly securing customer keys.
Leaving a key unsecured for even one moment can give a thief a window of opportunity. For example, when one customer dropped his vehicle off in the service lane, the dealership employee left the keys in the vehicle while it was in line. Before the customer had even left the lot, a thief drove off in the vehicle. By the time the vehicle was located, it had been damaged by a hit and run.
Does that sound like a high-quality service experience? Not at all. That customer won't be returning — and that incident will deter others since he went public with his experience.
In addition to providing fair pricing, honest feedback, and timely service, protect customers' trust by securing their vehicle keys.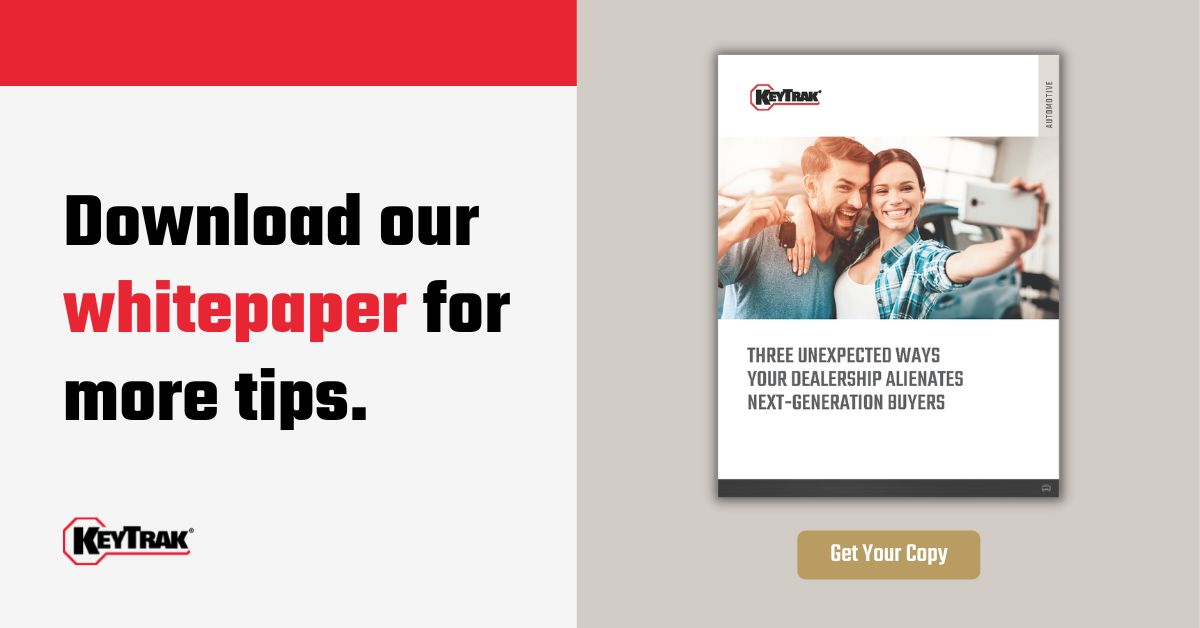 When customers feel like you prioritize their time, know who they are and what they drive, and do what it takes to protect one of their most valuable assets — their vehicle — they're sure to keep coming back.