Universities across the U.S. are seeing outsized demand for housing. Between college students clamoring for the on-campus experience after the pandemic and limited affordable off-campus housing, higher ed staff are having to act quickly and get creative to meet the demand.
Sometimes the solution is straightforward — like adding beds to rooms. Other strategies — such as moving students around mid-year to fast track renovations — involve more complicated logistics. No matter how you approach the student housing crisis, one thing is guaranteed: You'll need to adjust your key control practices. By planning ahead for your changing key management needs, you'll help avoid frustrating process failures and dangerous security breaches.
Let's look at a few examples of how universities are navigating the housing shortages. If you're considering a similar approach, factor in the appropriate key control response.


Increasing Room Occupancy
To make room for more students, some campuses are maximizing the space they already have. University of California Merced, for example, has rooms designed for triple occupancy but had only been assigning two students to a room. Now, to meet increased demand, the school is working to get approval to add more beds.
Key Control Response: Determine how many additional keys you'll need to assign and manage. If necessary, increase your existing key control system's capacity.


Building New Facilities
Campuses that expect to see sustained growth are constructing new housing facilities. The University of Connecticut, for example, plans to invest $215 million in a new residence hall that'll add 657 beds.
Key Control Response: As your campus grows, scale your key control accordingly. Consider using the same electronic key management solution in all residence halls so you can manage access from a central location.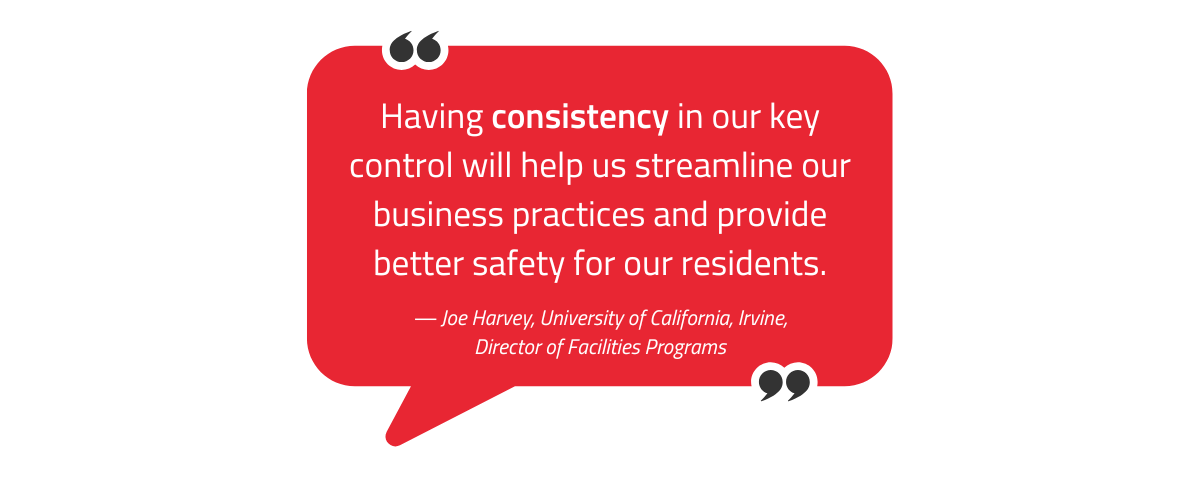 Providing Off-Campus Accommodations With Transportation
Providing temporary off-campus housing can work as a stopgap measure. For example, the University of North Carolina at Charlotte is putting up nearly 300 students in hotels until longer term accommodations open up. The school will provide shuttle service to and from campus.
Key Control Response: Collaborate with your fleet manager to resolve any fleet key control challenges. Electronic key management addresses many of the issues that interfere with students' access to reliable transportation. For example, managers can restrict key access to authorized users, assign keys to drivers, track mileage to avoid vehicle misuse, and stay on top of vehicle maintenance.
Whether your solution to the student housing crisis involves permanent changes to your campus or temporary workarounds, consider how you'll adjust your key control practices. By planning ahead, you can avoid process breakdowns, sidestep security pitfalls, and provide student with the positive college experience they're anticipating.