From yoga studios to smart appliances to wine cellars, multifamily communities are getting creative with amenities that elevate the resident experience.
While luxurious perks are appealing, a recent survey revealed that safety is also a key factor for residents when they decide if they'll renew their lease. Protecting your community starts with avoiding lost, stolen, or misused keys. Key control that reliably protects and tracks keys creates a safer, enjoyable environment for your residents. It also helps in the following two areas.


1. Employee-Resident Relationships
If amenities are a significant part of a positive multifamily living experience, employee-resident relationships are even greater. Residents expect staff members who are friendly, responsive, attentive to their needs, fair, and respectful of their private lives and personal property.
A quick scan of online threads shows that residents are concerned with the ways employees handle keys. One resident describes a situation where a maintenance worker left keys in a lock, leaving them vulnerable to theft or misuse. That's why it's important for employees to use keys with care. An electronic key control system that tracks who takes keys and when holds employees accountable for their actions and assures residents they're safe in their own homes.
If a resident believes someone entered their apartment, you can use the key audit trail to prove no one removed the key during the time in question. You can also demonstrate how secure the technology is, showing the resident that only trusted staff are able to access keys. And when they do access keys, their key use is logged and tracked for accountability. Keeping your employees accountable for their key use builds trust between your residents and staff.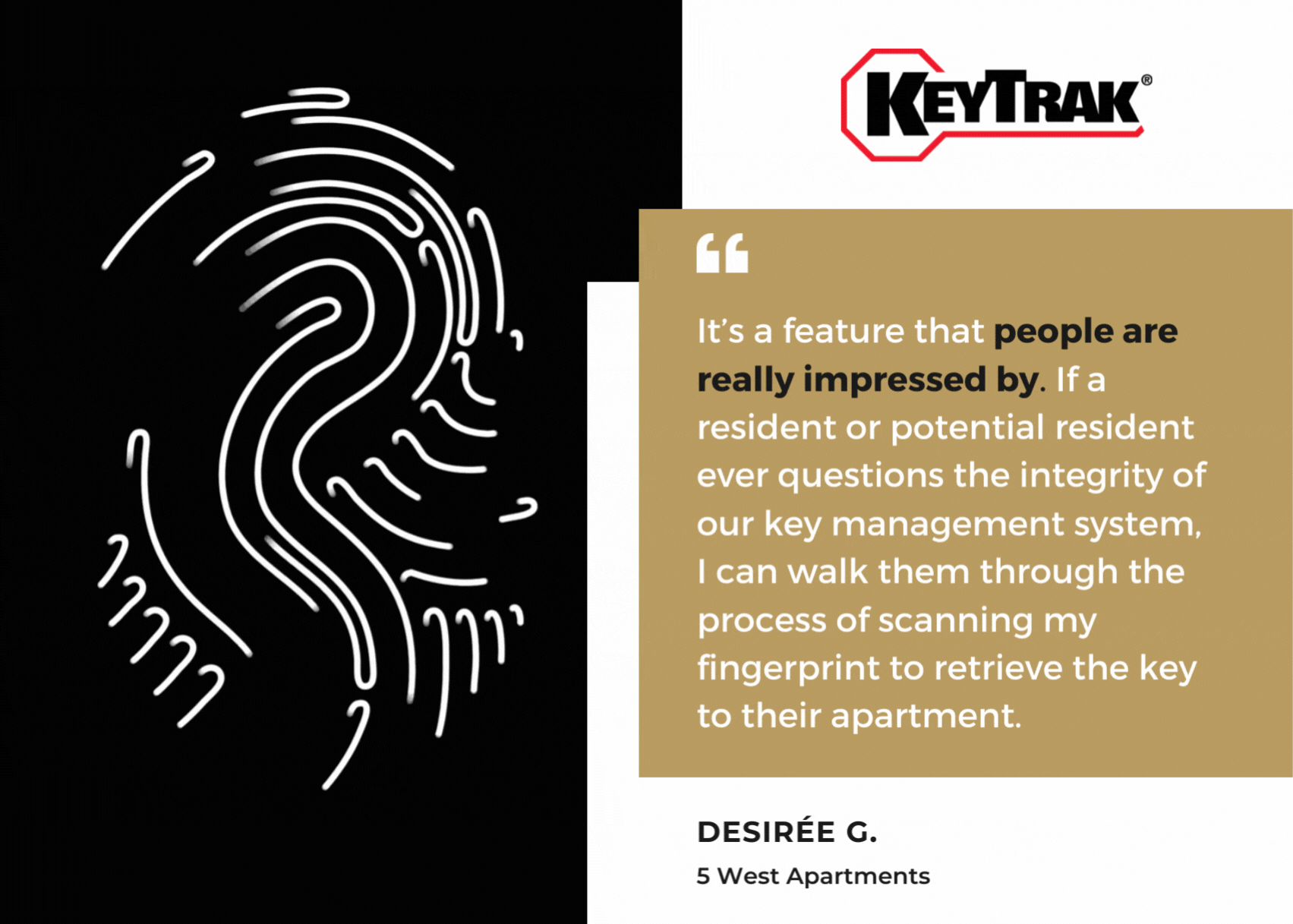 2. Your Bottom Line
Rekeying a multifamily community when keys are lost or stolen can cost thousands of dollars or more. A key control system that keeps keys locked away in steel drawers and can only be accessed by a password or fingerprint scan helps prevent thefts. In addition, if your keys are secure and accounted for, you'll save hours of your day hunting down lost or misplaced keys.
Key control helps the property save time and money, so you can put those resources into improving the property and making it a better place to live. And those extravagant amenities listed earlier? Those could be in your budget. Not only will residents be happy knowing they're safe and secure in their home, but they'll also be able to enjoy things they want, such as high-speed Wi-Fi, fitness centers, or community workspaces.


Take Action
To create a positive, secure environment for your residents, follow these best practices:


Secure keys in a key control system rather than on a pegboard or in a lockbox.
Implement a way to automatically track when apartment keys are removed and returned.
Routinely train employees on your key control policies.
Create a safe, enjoyable environment for your residents by securing keys. Take the time to review your key control practices, so you can protect your residents and help ensure a key management issue doesn't make them feel unsafe in the place they call home.