If you manage people in any capacity, you're probably feeling the strain of record-breaking turnover, hybrid work situations, and people taking time off due to illness.
The good news is if you have a KeyTrak Edge system, managing your key control system users doesn't have to add to your stress. Try the following features to simplify your user management process.
Return Key Lockout
If you want to hold employees accountable for returning keys on time, set up the Return Key Lockout feature. Users will be automatically locked out if they have a key out for longer than a specified amount of time (12, 24, 48, or 72 hours). You can also have users locked out if they remove a key without requesting access.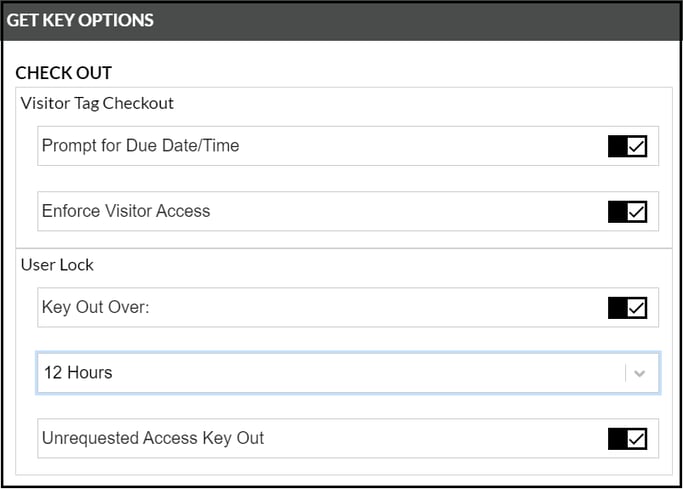 Locked-out users will still be able to log in to the system, but they'll only be allowed to return the keys they have checked out. All other functionality will be temporarily disabled.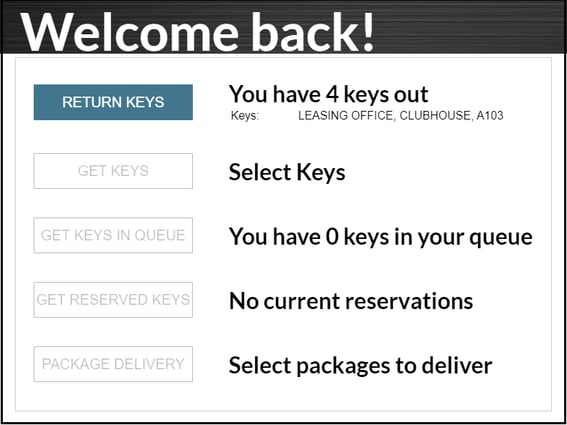 Where to find it: System Configuration > Return Key
Deactivation Date
When employees leave your company, it's important to deactivate their key control system access privileges. You can't always predict someone's last day, but when you do know it in advance — as with temporary or seasonal workers, for example — schedule a deactivation date for that person's KeyTrak profile. If possible, choose a deactivation date when setting up their user account so you don't forget.

On the selected date, the user's profile will be automatically deactivated at 11:59 p.m.

Where to find it: Add/Edit User > Personal Info
Email Alerts Tied to Specific Users or Roles
People are already inundated with irrelevant emails and notifications. To make sure KeyTrak notifications are only sent to the people who need to see them, you can set email alerts to only be sent if they're associated with specific users or user roles. This feature allows team leaders to create alerts only for their direct reports so they don't have to sift through all system alerts.
Alerts include:


Backup Failure
Import Failure
Network Exception
Upcoming License Renewal
Export Failure
Unrequested Access – Drawer Open (new)
Unrequested Access – Drawer Close (new)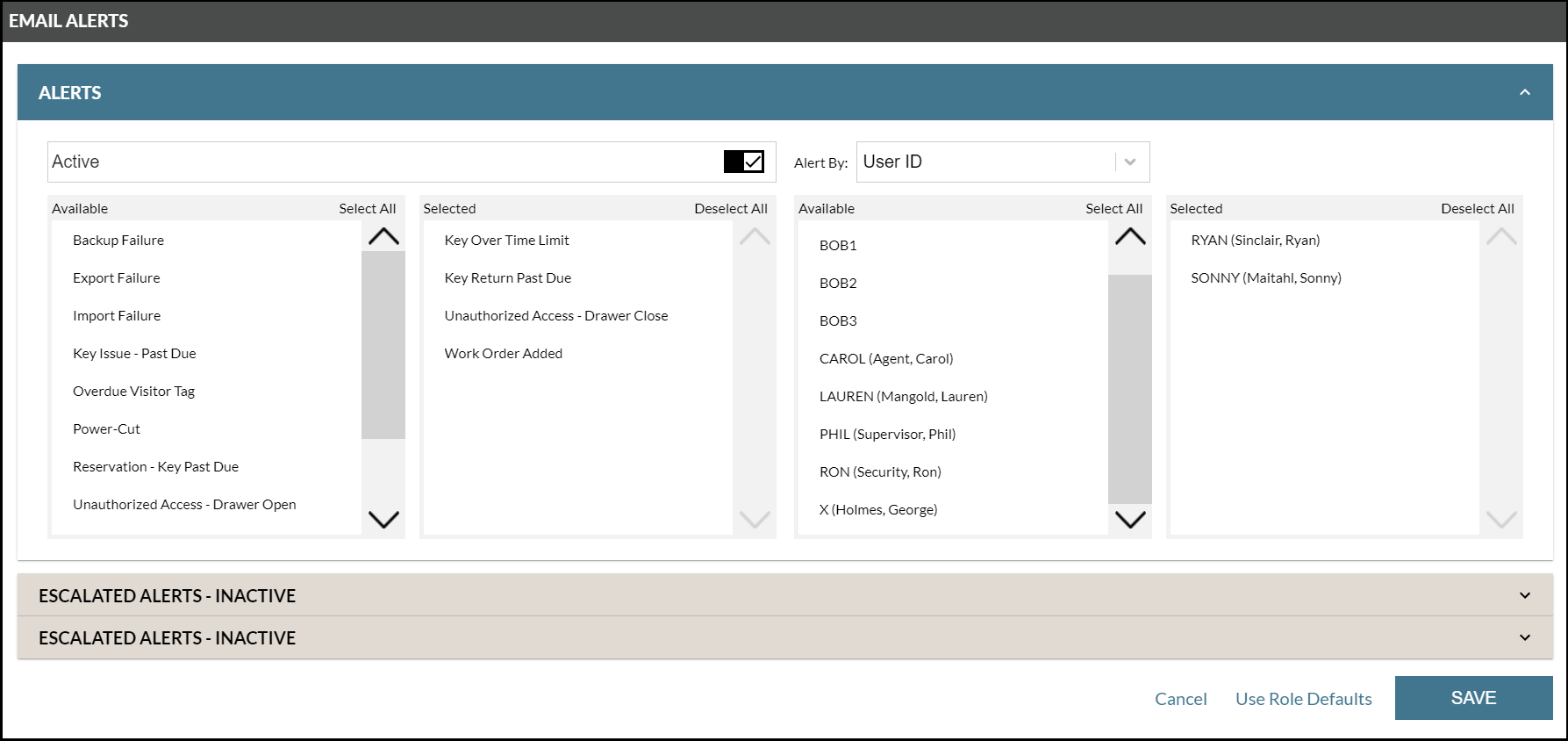 Where to find it: User Role > Email Alerts
Escalating Email Alerts
Sometimes people make honest mistakes, whether it's leaving a system drawer open or forgetting to return a key. Typically, when employees receive an alert about such an issue, they'll resolve it quickly. If they don't, that's where escalating email alerts come in.
Escalating alerts let management know when an issue hasn't been resolved within a specified time frame. For example, a property manager at an apartment community could set an escalated alert to be notified an hour and a half after an initial "Key Over Time Limit" alert. This gives the original user time to resolve the first alert and equips the supervisor to respond quickly if they don't.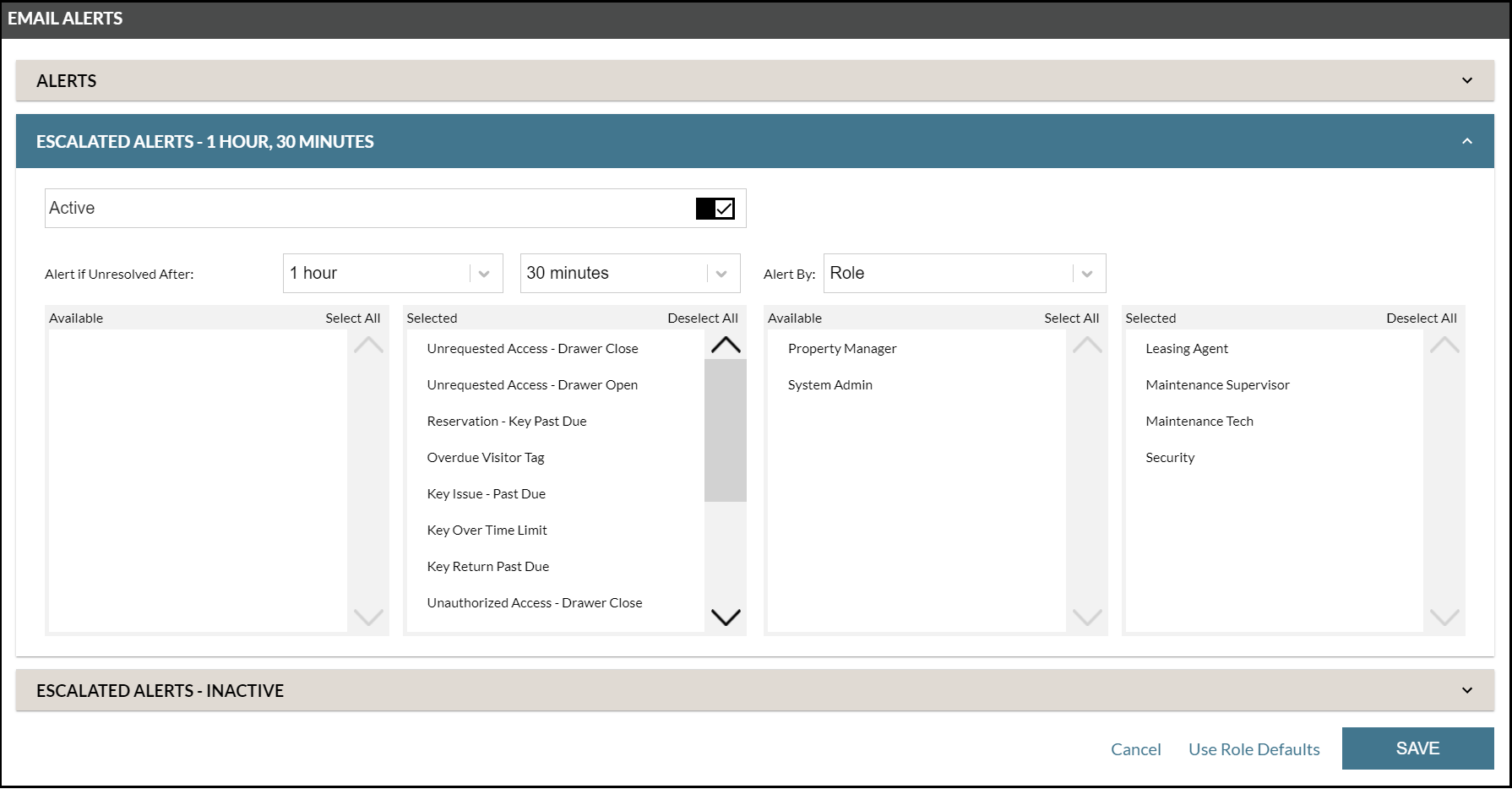 Where to find it: User Role > Email Alerts
User History Reporting
If a manager needs an overview of a user's system activity, KeyTrak reports are the place to go. The following reports make user management easier: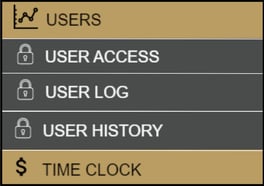 Users — Displays the first and last name and phone number for each employee with system access.
User Access — Helps you monitor KeyTrak users' access level assignments.
User Log — Tracks what each user is doing when they log on to the machine by recording every
mouse click.
User History – Shows when a user's record is locked, unlocked, and deactivated.
Time Clock – Lists a user's Time Clock activity, including In, Out, Clock Hours, and Pay Hours.
Where to find it: Reports
By taking advantage of these features, you can shave as much as a few hours off your user management process. If you're not sure what features or settings will work best for you, contact our KeyTrak Live training team. Managing people is more complex than it used to be, but managing your KeyTrak users doesn't have to be impossible.