Whether it's maintenance technicians having races judged by police with radar guns or leasing professionals taking prospects on wild rides, multifamily professionals have plenty of good golf cart stories. What's not amusing, however, is coming to work to find your golf carts missing. Unfortunately, they're easy to steal when they're not secured properly.
On a busy highway in Maryland, for example, police pulled over five teens who were driving a golf cart they'd stolen from a local apartment community. Why? The teens had missed their Lyft ride to a town 15 miles away.
Irresponsible minors aren't the only types of thieves you have to worry about. One man started a multi-state theft operation to solve financial woes related to his failing business. For four years, he stole golf carts from golf courses and resold them for half their value or less. By the time he was caught — while trying to steal golf carts from a dealership — he'd cost his victims approximately $222,000.
What can you do to steer clear of the headache and costs of stolen golf carts in your multifamily community? Follow these best practices.


Lock Them Up
When your golf carts aren't in use, park them in a garage or storage shed. Locking up your vehicles out of sight makes them less tempting to juvenile joyriders and seasoned criminals looking for a quick target.
For an additional layer of protection, consider anti-theft measures such as steering wheel locks, pedal locks, and wheel boots to immobilize specific parts of the vehicle.


Secure the Keys
Secure the keys to your golf carts — and the keys to the garage or shed where they're parked — in a secure key control system. Your system should automatically control who can access keys and record when they're removed and returned. If your golf carts come with universal ignitions that rely on non-unique keys, consider having unique ignition starters installed.
When parking outside an apartment for a work order or prospect tour, carry the keys with you rather than leaving them in the ignition.


Install GPS Trackers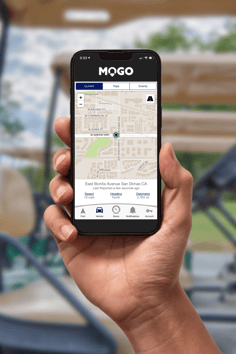 Install GPS trackers on your golf carts so you can see where they are in real time. In the event a savvy thief is able to get around your theft precautions, a GPS location service can alert you when a vehicle has gone outside a certain boundary, such as the edge of your property.


If your tracking provider offers theft recovery service, you can potentially recover the vehicle before it's irreparably damaged. By doing so, you'll avoid a costly, time-consuming insurance claim.
There are practical, day-to-day benefits of GPS trackers as well. Is an employee driving too fast through the parking lot? You'll get a speed alert. Did a golf cart roll down a hill into a resident's parked car? You'll receive an impact alert.
Don't become a cautionary tale. Lock up your vehicles, secure your keys, and take advantage of GPS tracking to put the brakes on golf cart theft in your apartment community.