From supply chain woes to a technician shortage, dealership fixed ops departments have faced their fair share of challenges in the past few years. As your service department navigates the industry's challenges, is it doing enough to retain loyal customers? How much revenue does it contribute to the dealership?
Let's explore some recent data points to help you gauge your success and identify opportunities for improvement.


Customer Experience
1. Customer satisfaction declines 23 points for recall repairs vs. traditional maintenance or repairs.

2. Owners are now waiting longer for appointments. Premium vehicle owners wait 5.6 days (up 1.9 days from 2021), and mass market vehicle owners wait 4.8 days (up 1.3 days from 2021).

3. When it comes to complex repairs, owners give franchise dealerships a trust rating of 6.14 out of 7. Aftermarket full-service maintenance and repair facilities only earned a 5.75 rating.

4. If customers prioritize ease of doing business, aftermarket service facilities have a slight advantage, earning a 6.18 trust rating vs. 6.11 for dealerships.


Revenue
5. In 2022, service and parts sales made up 12% of total dealership sales dollars, increasing 11.1% from the previous year.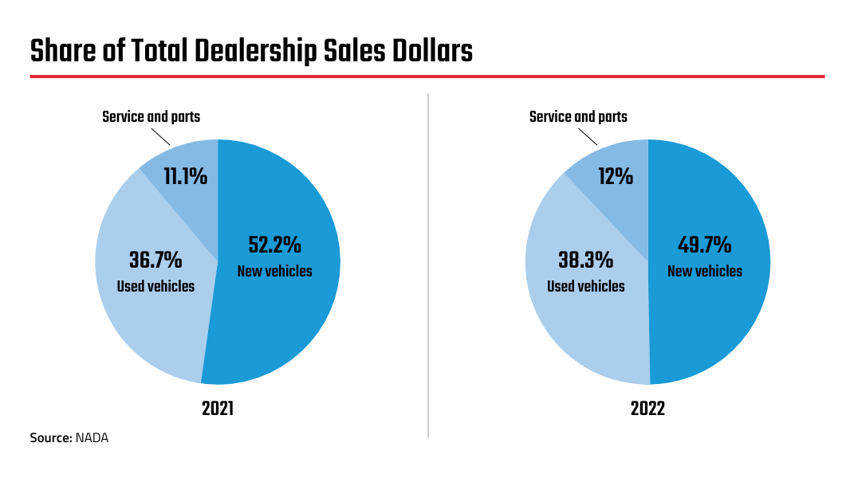 6. Dealerships wrote 265.8 million repair orders (ROs), bringing in a total of $137.49 billion in service and parts sales.

7. The average dealership:


Made $8,197,000 in total service and parts sales.
Wrote 15,848

ROs

.
Brought in $432 service and parts sales per customer RO.
Brought in $440 service and parts sales per warranty RO.
Earned $1.61 in parts sales per labor sale.
Employs 15 technicians.
Carries $513,917 in parts inventory.
Has a $152 mechanical labor rate.

Takeaways
Use these industry figures as a benchmark to help you determine how your service department stacks up and claim additional revenue opportunities.
It's clear that maintaining customers' trust should be a top priority. Whether it's handling recall repairs with care, optimizing appointment scheduling to minimize wait times, or providing transparent and honest service, building and preserving trust will keep customers coming back for more.
Additionally, streamlining processes, embracing technology, and making the customer experience as hassle-free as possible will help you increase service revenue. Proactively address the challenges you face, and you'll set your dealership apart from the competition.