Are you uncomfortable reading negative reviews that could apply to your apartment community?
One resident wrote of their apartment community, "Great staff, but seem overworked which seems to cause miscommunication and things to perhaps slip through the cracks."
At another community, a resident complained, "Shown and promised a newly renovated unit. It wasn't ready on time."
These reviews highlight the pitfalls of a community where leasing and maintenance teams are disconnected. In contrast, a harmonious partnership between these two teams leads to faster issue resolution, streamlined property maintenance, and better resident experiences.
But how exactly do you improve collaboration? It starts with effective processes and easy-to-use technology — like electronic key control systems — that integrate all the different processes on your property. Let's look at three specific areas to focus on:


1. Keeping Residents Informed About Work Order Status
When residents submit a work order, they expect a timely resolution to their issue. If there are communication breakdowns between leasing and maintenance teams, it can lead to missed or delayed maintenance requests, frustrated tenants, and tension within the team.
For example, if leasing agents give residents inaccurate information or set unreasonable expectations for when their issue will be resolved, that leads to frustration for maintenance technicians who are trying to address the issues. In addition, delays in conveying important information about maintenance requests, emergency situations, or resident concerns can impact the ability of maintenance technicians to perform their jobs effectively.


Solution: Communication and Resident Key Alerts

To encourage collaboration, it's important for the entire staff to have a clear objective for the day, week, or month. When changes or unexpected challenges pop up (and they will), it's important to communicate those changes to each other and remember they're working toward the shared goal of a smoothly run property and happy residents.
In addition, clearly defined policies about turnaround times for standard and routine maintenance requests eliminate any confusion about what leasing agents should tell residents when they call in a maintenance request.
Encourage both maintenance and leasing team members to include as many details as possible in work order requests and updates. To improve communication with the resident, set up your key control system to send them an email automatically the moment the key to their apartment is removed.


2. Scheduling Turns and Tours
A first impression is everything. When a resident sees an apartment for the first time, it's important for it to be in pristine condition so the leasing team has the best chance of closing a new lease. When a new resident moves in, it's equally important for their home to match the quality of the apartment they toured.
But coordinating and prioritizing the tasks associated with turns and prospect tours is challenging. The lack of effective planning among on-site teams can lead to delayed schedules, incomplete make-readys, and poor resident experiences.


Solution: Collaborative Planning and Key Reservations

Whether you use an old-fashioned make-ready board, project management tool, or property management software, it's important to map out all the steps of the make-ready process. This process is a good opportunity for leasing and maintenance teams to plan together for upcoming apartment turns and prospect tours, discussing timelines, tasks, and vendor scheduling. To prevent scheduling mix-ups, employees can reserve the keys they need in advance.


3. Tracking Down Keys
For a property to run efficiently, it's important to stay on top of keys. It wastes time if a maintenance technician needs to wrap up an apartment turn, but the key isn't available because a leasing agent is showing the apartment to a potential prospect. Likewise, it's frustrating if a leasing agent needs to let in a flooring contractor and has to call everyone on-site because the key is nowhere to be found.


Solution: Electronic Key Control and Mobile App

If you haven't already, upgrade any manual key control processes with an electronic key control system so you always have a digital trail of who has a key. The moment someone logs into the system with their unique credentials and checks out a key, it's tied to the person's name.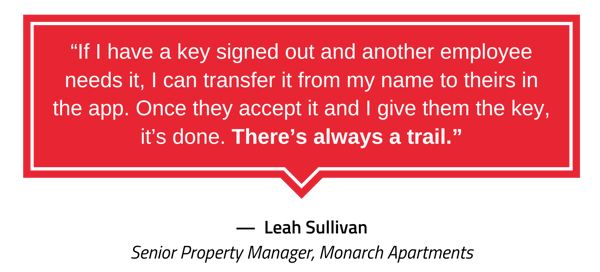 If someone needs a key while out on the property, they can use the key control system's mobile app to look up who has the key. They can then send a transfer request to that person. After the person grants the request, the key log will automatically update. For example, the leasing agent needing to let a contractor into an apartment can retrieve the key from the maintenance technician who has the key. After the key handoff is completed in the app, the system will show that the key is checked out to the leasing agent.
When your maintenance and leasing teams work together seamlessly, it shows. Residents will notice the difference — and they'll be more likely to leave positive reviews online.